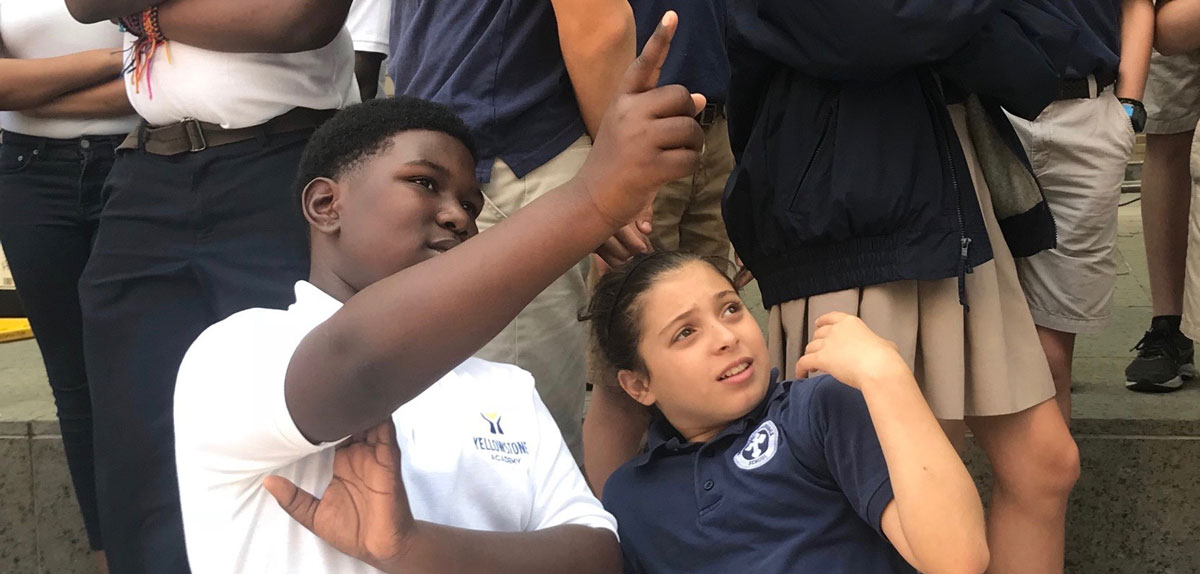 Our partnerships
If you would like to learn more about us or participate in our program, please contact us.

Annunciation Orthodox School and The Yellowstone College Prep
This group is in their 3rd year of collaboration. The group of students consists of their middle school choirs, led my Ms. Natalie Gray (AOS) and Ms. Tiffiny Reckley (YSA). The group has performed as part of Methodist hospital's Crain Garden Series and the Houston Public Library downtown.
More info on the Annunciation Orthodox School
Teacher

Tiffiny C. Reckley

Tiffiny C. Reckley is an 8 year music education veteran Originally from New York City with degrees from Xavier University and the University of North Texas. Ms. Reckley has been an active member of the National Association for Music Education since 2005, as well as her state and local band director associations, respectively. She is also a member of Texas Black Music Educators. Her favorite quote is, "Music is a moral law. It gives a soul to the universe, wings to the mind, flight to the imagination, a charm to sadness, a life to everything." –Plato

Teacher

Natalie Gray

Mrs. Natalie Gray received a Bachelor of Music degree in Vocal Performance from The Catholic University of America and a Post-graduate degree from The University of Georgia in Music Therapy. As a performer, Mrs. Gray's most notable performance credits include the Tony-award winning Broadway produced Avenue Q as "Christmas Eve", Sondheim's Pacific Overtures, A Funny Thing Happened …Forum, Hansel and Gretel as "Gretel" and Much Ado About Nothing as "Hero". She has performed internationally with a vocal group for the Department of Defense. Mrs. Gray's performance experiences contribute a great deal to her educational philosophy. Her emphasis of music education for students is to gain a positive experience through the study and the aesthetic value of music and how it relates with others.

KIPP SHARP and The Awty International School
This group will collaborate for the first time this year. KIPP has about 60 elementary school students who will be paired with Awty's middle school students, creating a "musical mentorship". The choirs are led by Ms. Laura Taylor (KIPP) and Mr. Robert Dee (Awty).
Teacher

Laura Taylor

Ms. Taylor is the KIPP SHARP College Prep Lower School music teacher and director of the KIPP SHARP Singers.  With over 20 years of experience directing childrens' choirs and working with young children in early music development Ms. Taylor has directed pre-K, 1st, 2nd and 3rd grade choirs at Chapelwood United Methodist Church, in Houston, Texas. 

Ms. Taylor holds a Bachelor of Arts degree from Millsaps College and a Master of Arts degree from New York University. Ms. Taylor also pursued doctoral studies at Rice University and has obtained certification in Kodaly and Orff elementary music workshops.  Ms. Taylor is an active member in Gulf Coast Orff Association, Texas Music Educators Association and the American Choral Directors Association.

Prior to teaching, Ms. Taylor sang first soprano with the New York Choral Society where she sang numerous concerts in Carnegie Hall including the always-popular holiday concerts with Peter, Paul and Mary.  Additionally, Ms. Taylor sang with the Houston Symphony Chorus and performed with the chorus on a tour of Austria and Germany, most notably attending the Graz Summer Musical Festival.

Teacher

Robert Dee

After receiving a degree in Music Education from the Eastman School of Music, Robert Dee has been a choir director and music educator in Florida, New York and Texas. He joined the faculty of The Awty International School in 2005. During his tenure, Awty choirs have performed at various concerts and events on and off campus, including the Independent Schools Association of the Southwest Arts Festival, international festivals and the National Youth Choir which performed at Carnegie Hall.  He has successfully coached individual singers who have earned membership in TMEA All State Choirs. Concurrent with his time at Awty he has been a regular member of the Houston Grand Opera Chorus.