Partnerschools Voices United rehearsals take place every Sunday from 12:30- 2:30pm at Trinity Church Downtown, 800 Houston Ave, Houston, TX 77007
All 6-12 grade students are welcome to audition!
Please contact rebecca@partnerschools.org
Sign up for your audition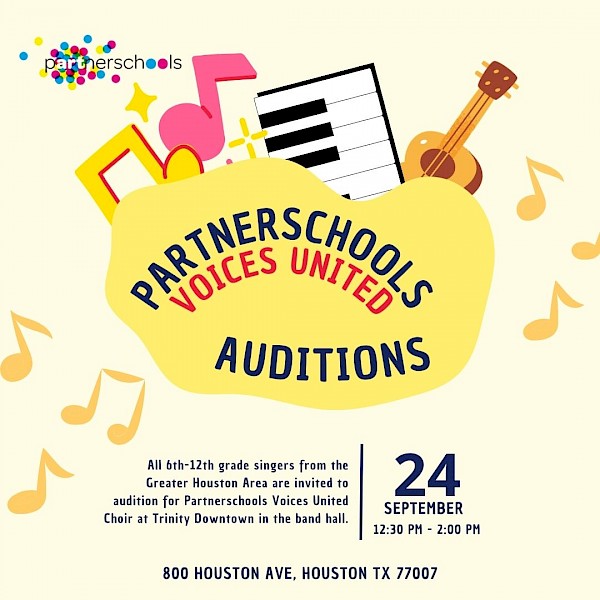 Choir Director

Rebecca Castillo

A native of Houston, Texas, Rebecca Marie Castillo holds a Masters in Music Education from the University of Cincinnati's College Conservatory of Music where she studied voice with Amy Johnson. She also holds a Bachelors in Music Education from Sam Houston State University where she studied voice with Nicole Kenley-Miller and Barbara Corbin. Rebecca performs with a variety of professional choral ensembles including the Houston Chamber Choir, Mercury Chamber Orchestra's Mercury Singers, Pasión (GRV), and EXIGENCE (Sphinx Organization). She performs locally as a soloist with the Pasadena Philharmonic Orchestra and Clear Lake Chamber Ensemble. In addition to her performance work she is a public school teacher and has had award winning choirs and orchestras at both the high school and intermediate level. While working at South Houston High School and Jackson Intermediate in Pasadena ISD, the choirs received Superior Ratings at UIL Concert and Sight Reading Contest and awards such as "Judge's Choice", "Best in Class", and "Best in Festival".


 

Choir Director

Benjamin Morgan

Mr. Benjamin Morgan is one of the choir directors for Parterschools Voices United.

Mr. Morgan is the assistant choir director at Porter High School in New Caney ISD. He taught at Jackson Intermediate school in Pasadena ISD for two years before teaching at Porter High School. The choirs in his program during the 2021-2022 school year brought home three sweepstakes trophies at UIL, earned two superior ratings at Kemah Choir Days, and won "Best in Festival" at the Shadow Creek Choral Festival. Mr. Morgan presented during the 2021 TMEA Convention. 

Mr. Morgan graduated from Louisiana State University with a degree in Music Education with a concentration in vocal music. There, he studied voice with Terry Patrick-Harris and conducting with Dr. Trey Davis. Mr. Morgan conducted a children's choir at Broadmoor United Methodist Church during college which often performed at nursing homes in the surrounding area. He was also with the Tiger Glee Club when they presented at the 2018 Louisiana ACDA conference. Mr. Morgan was highly involved with the community theater community during his time at LSU. He worked as the Music Director for Oklahoma! in 2020 and Assistant Music Director for Roald Dahl's Willy Wonka in 2019 at Ascension Community Theater. He has sung in Street Scene, La Rondine, L'enfant et Les Sortilèges, and Le Nozze Di Figaro during his time in college. 

He enjoys traveling, drinking coffee, and biking when he is not singing, directing, or playing piano. He is looking forward to an exciting first season with Partnerschools Voices United.