Back to overview
Here is a nice article about our Visual Art Collaboration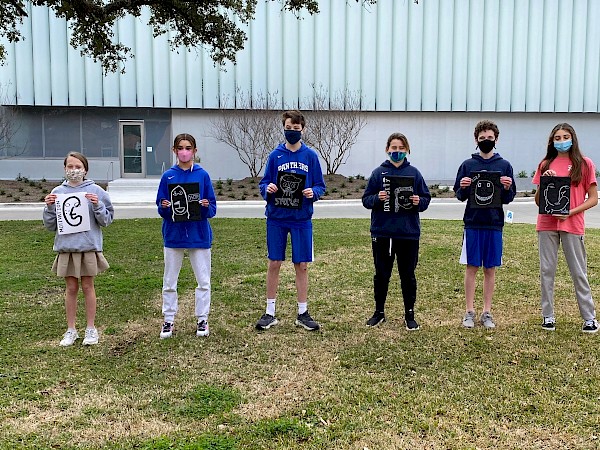 STITCHING COMMUNITIES TOGETHER THROUGH ART
With the help of technology, we have found ways to stay digitally connected with our community during the pandemic. Facetime, ZOOM, and Google Hangouts have become the norm for many of us. While these methods of communication are great, they aren't a replacement for the daily routines and interactions that we once knew and find ourselves deprived of and desperately yearning for. Maintaining children's connections with one another can be very challenging and often requires "out of the box" thinking and approaches. Finding a way to help with social isolation in innovative and meaningful ways for children, is exactly what ​Partnerschools​ has created for Presbyterian School students.
With Houston recently ranking as the 7th most diverse city in the US, according to U.S. News & World Report, embracing inclusivity and cultural diversity sets the stage for inspiration. "This reality brings great opportunity for students and teachers to learn from each other, experience different languages and culture, and to understand that collaboration is cognitive and creative diversity: the ultimate form!" says Sonja Bruzauskas, Founder and Director of Partnerschools. "For the past 8 years, Partnerschools has been facilitating choir partnerships among different schools that result in concerts and friendships across the city of Houston. This year, we are delighted to expand into the realm of Visual Art with Presbyterian School and Yellowstone College Prep!"
This initial Partnerschools project, brought in a well-known local mixed media and multimedia artist, ​Lia Rodi​, to curate a creative and safe collaboration during the pandemic. Presbyterian School was purposefully partnered with Yellowstone College Prep, a newly opened Texas Education Agency-approved public/private school designed to expand quality educational opportunities catering to underprivileged youth
in Houston's historic Third Ward. Serving students who live in households making less than the poverty line, Yellowstone strives to invest in students while empowering them to achieve at their highest potential. By creating an effective community made up of educators, families, and community members, they are seeing an incredible impact on student success.
Partnerschools has stepped in to provide an incredible community outreach opportunity that wouldn't otherwise exist. By connecting students in geographically neighboring schools with culturally different demographic backgrounds, students can work alongside each other in an astounding collaborative project.
Presbyterian students in the 7th and 8th grade Art & Architecture class taught by Fine Arts Teacher, Leslie Wade, were invited to create simple self portraits on canvas that also included a word that they would share with students of Yellowstone College Prep. "Via ZOOM, local author and poet ​Sarah Choi​, spoke with the students about the power of words, and challenged them to choose one word, or a few words to convey a
message about these times we live in, and what message would we share with the students across town. Words like ​hope, perseverance​, and​ joy ​were the first to come to mind for the students." said Wade.
Wade and Rodi worked together teaching the students how to visibly create the black and white self portraits on canvas along with their chosen word. "All the artwork from both schools will be compiled into a single piece, sewn together into one large work of art. It will reflect the similarities between all the students, not their differences. The hope is to install the work at both schools for a period of time for all to enjoy. If Covid-19 restrictions are lighter in the spring, we hope to have an outdoor gathering where the students can view the work in person, together." said Wade.
With Presbyterian School students completing the first part of the project, the next step will be for the artwork to travel to Yellowstone College Prep where art teacher, Trina Shrepee, will work with her students, Rodi, and Choi to develop and complete their own self portraits. "It has been such an honor and pleasure to work with Leslie and PS students on this community connecting project! The work at Yellowstone College Prep begins next week and I can't wait to see how the students' works come together. Let's do this! Connection is everything!" said Rodi.
Bruzauskas plans to continue highlighting how the diversity of our city can empower and inspire students through the arts. "Since the pandemic began, we have been able to involve twelve schools in virtual and hybrid collaborations, and we have created multiple new programs to reach out to many more children and teachers all over the city and state! Partnerschools plays a key role in keeping students engaged and excited, and in strengthening our community!" It's with gratitude for organizations like Partnerschools who are leading the way by providing creative outlets for student communication. Supporting opportunities to accept and share cultural differences ensures that the world can be a better place tomorrow.