Back to overview
Summer Songwriting Workshop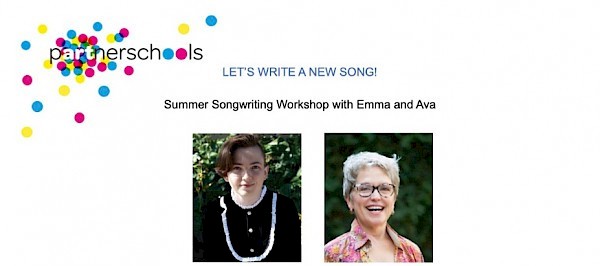 This summer, Partnerschools is offering a songwriting camp. This new platform presents a wonderful opportunity for kids from all over the world to collaborate, learn from each other, and experience other cultures.
In the first session, Ava Leavell Haymon, former Louisiana Poet Laureate, will guide the students in creating lyrics for a group song.
In consecutive sessions, acclaimed composer, Emma Wine, along with Ms. Haymon will guide participants in setting their lyrics to music.
At this point, the students will have composed their own brand-new song! Emma, Partnerschools' singing staff, and choir teachers will teach these young composers how to record themselves singing this new song. From these recordings, Partnerschools will create a music video of the new song for the composers/performers to share and enjoy.
Writing a group song is not only fun, but it allows students to open up, talk about things that move them, and improve their listening and communication skills. Songwriting also requires language arts, math, and problem solving, and the Partnerschools Summer Songwriting Workshop combines those concepts with teamwork, collaboration, and the arts.
July 19 - July 23, 2021 10:30 - 11:45 PM CT
Class is limited to 20 students, grade 6-7. Please save your spot by July 15th
Suggested donation: $100
Below is a song created at a previous Partnerschools songwriting workshop